Film inspired fashion – the 1950s
March 10, 2017
Film inspired fashion throughout the 20th century. Going to the flicks had always been one of people's favourite entertainments, but in film inspired fashion 1950s, there was a competitor in town – the TV. Lots of Americans now had a television at home and many better off British people patriotically bought one especially to watch the coronation of Queen Elizabeth II in 1953.
Film inspired fashion 1950s
Womens clothing styles in 50s films-The lure of the exotic
David and Bathsheba 1951 – Susan Hayward
Rita Hayworth in Salome, 1953
Hollywood had to outshine the allure of a cosy night in front of the telly, so it created some spectacular films that were worth going out for – pouring money into quality instead of quantity. Great Biblical epics and adventure stories followed.
Samson and Delilah, released December 1949, Kim (1950) Ten Tall Men (1951), David and Bathsheba (1951), Salome (1953), Son of Sinbad (1955) and Solomon and Sheba (1959) starred musclebound men and beautiful women in skimpy outfits that ingeniously passed the censors. Several of the stars of Son of Sinbad had been exotic dancers before being cast, and their ensembles played up their charms considerably.
Their Film inspired fashion 1950s costumes and those of Hedy Lamarr, Laurette Luez, Jody Lawrance, Susan Hayward, Rita Hayworth and Gina Lollobrigida didn't immediately lead to women wearing harem trousers or jewelled headdresses on the streets of London or New York, but it did lead to crop tops and "exotic" makeup trends, and the trade in floaty, transparent nylon nighties boomed.
"Exotic" eye makeup ad, 1951
Sheer nightwear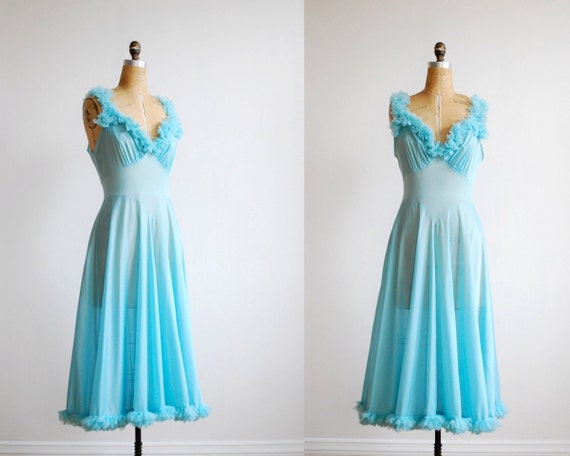 Sheer nylon nightie
Betty Brosmer in a crop top
Film inspired fashion 1950s – Film star style
In the 50s, movie magazines continued their breathless examination of the movie stars' lives, made suggestions as to how to do your hair just like them, and promoted film inspired fashion with copies of their costumes. The stars themselves continued to put their faces to cosmetics and slimming regimes.
Two movie couples who held the headlines in the 1950s couldn't be more different. 17-year-old Elizabeth Taylor had just got engaged to the millionaire heir Nicky Hilton. Movie magazines delighted in printing pictures of the pair at industry dinners, along with their opinion that the marriage would never happen. A few issues later, the same magazine had a gushing "exclusive" about the couple's honeymoon.
The other "It Couple" were Humphrey Bogart and Lauren Bacall. Gossip was of a different sort about Bogey and Bacall, who had starred together in To Have and Have Not (1944) and quickly fallen in love. Magazines agreed they were absolutely made for each other – the only problem was that Bacall was only 19, and Bogart 44. Also, he was married to someone else. A year later, he was free to marry Bacall, and the media was delighted, remaining in rhapsodies about the pair throughout the Fifties.
Don't sugar coat it
Lauren Bacall in 1950
Lauren Bacall was a fashion icon in her own way. Many women would like to be just like her, but the problem was that her look wasn't easily copied, because it wasn't what she wore so much as how she wore it – she had an innate poise and killer gaze. She looked at her best in fuss free, rather masculine tailoring in an age of high maintenance femininity. "Nothing itsy-bitsy – you shouldn't have to do too much to them, just wear them" was her opinion on the best clothes. And make-up? "For my peculiar face I look best when I look as though I am not wearing any", she told Vogue in 1951. Her personality, too, was straightforward and direct.
Another 1950s star who never sugar coated things was Katherine Hepburn. Famous for her loose trousers and shirts which she had insisted on wearing both on and off screen since the 1930s, Hepburn too could be unconventionally blunt, had a wicked sense of humour, and rarely wore makeup. Katherine Hepburn's film inspired fashion has constantly resurfaced on the catwalk ever since.
Film inspired fashion 1950s – sex kittens galore
However, the film inspired fashion the 1950s is classically known for is an hourglass femininity, from the delicately fragrant to the full on sexy. Immaculate pancake makeup and rigidly waved coiffures were de rigeur for stars. Christian Dior and other Parisian designers had recently presented a wasp waisted and full bosomed look on the catwalk, with corresponding full skirts, worn by sharply groomed models who never had a hair out of place. It was this vision of womanliness that the movies excelled in. The 1950s produced so many sex kittens and blonde, brunette and red-headed bombshells that every film seemed to feature a breathless voice and a heaving bosom.
The top sex symbols included Marilyn Monroe in a string of films including Gentlemen Prefer Blondes (1953) (which also featured brunette sex kitten Jane Russell), How to Marry a Millionaire, (1953) and The Seven Year Itch (1955); Jayne Mansfield in The Girl Can't Help It (1956), and The Wayward Bus (1957), Gina Lollobrigida in films shot in Italian, English and French including her breakthrough role in Italian film Pane, amore e fantasia (1953), the English language Beat the Devil (1953), and the French movie The Law (1959).
Italian actress Sophia Loren smouldered in The Pride and the Passion (1957), and Houseboat (1958), while American Doris Day was an incredibly popular singer and actress with a slightly more wholesome image who starred in many hits of the 1950s, amongst them I'll See You in My Dreams, (1951), Calamity Jane (1953) and Love Me or Leave Me (1955).
The French Brigitte Bardot was incredibly prolific in the 1950s, appearing in seventeen films between 1952 to 1956 alone – mostly dressed in very little. She also popularised the bikini when she was photographed in one on the beach in Cannes.
Grace Kelly and the frosty blondes
More sophisticated and untouchable were director Alfred Hitchcock's "Frosty Blondes" – like Kim Novak, Ingrid Bergman, Eva Marie Saint and Grace Kelly.
Grace Kelly was one of the top style icons of the 1950s, always impeccably dressed on and off screen. Her 1956 marriage to Prince Rainier III of Monaco made her into a princess and was declared to be just like a fairytale. Her wedding dress, which was designed by MGM's Helen Rose, was worked on for six weeks by three dozen seamstresses. It influenced hundreds of wedding dresses in the 1950s and recently inspired the dress made by Sarah Burton for the Duchess of Cambridge on her 2011 marriage to Prince William.
When Princess Grace of Monaco became pregnant the year after her marriage, she used a large Hermes bag to shield her baby bump. The bag was quickly re-named the "Kelly" bag, and is still a sought after design.
Film inspired fashion 1950s – Elizabeth Taylor's dress of the year
Elizabeth Taylor in A Place in the Sun.
Film inspired fashion in many ways as copies of dresses and accessories worn by top stars were everywhere in both licenced and unlicenced versions. The beautiful and very young Elizabeth Taylor starred in "A Place in the Sun" in 1951, and her dress, designed by Paramount's Edith Head who adored the young starlet, was the most worn look for prom season 1951 as teenagers everywhere wanted to be Angela Vickers too.
"For the debut gown, I relied on flowers, little violets, to accent the bodice, and I sprinkled them on the skirt. It's very difficult to look dated with flowers. The dress became especially dramatic because I made the skirt exceedingly full, with yards and yards of tulle over a pastel underskirt, and the flowers made the bust look fuller. The combination of the full bust and wide skirt accented the waist making it even smaller than it was. Elizabeth prided herself on her tiny waist and was always willing to wear her gowns very tight to achieve a waspish look. I can still hear her telling me, "Tighter Miss Head, tighter."
"That dress was such a success; it was beautiful on camera and Elizabeth was radiant. Some clothing manufacturers copied – "knocked off" as they say in the trade – and the dress was mass-produced to hang in every department store in the country. And even I had I had designed it two years before, it looked very current."
Audrey Hepburn – elegant in every way
Another incredibly elegant woman whom everyone wished they could be was Audrey Hepburn, of course. One of the original gamine actresses, her very slender body was not in fashion at all. Edith Head, the credited costume designer for Roman Holiday and Sabrina, the roles which first brought Hepburn to the public's attention, said of her in a typically backhanded way: "She was intelligent and had a strong sense about fashion but what impressed me most was her body. I knew she would be the perfect mannequin for anything I would make. When clothes are designed to be sexy, you need a shapely form to paint them. But when clothes are designed for art's sake you need a shapeless body to display them."
Head took credit for her public's admiration too: "The simpler the clothes, the better for Audrey. I tried to design things that would accentuate the novel qualities of her body. I called attention to her long neck so that people began to describe her as "swanlike" and "graceful" instead of "gangly". I emphasised her broad shoulders to draw the eye up toward her face, but nobody ever said that she looked like a football player. And instead of trying to pad her hips I put her skin tight pants. I didn't try to use camouflage on Audrey or try to make her look like something she was not. Isn't it interesting that the Audrey Hepburn look, the reed slim silhouette, is still the most sought-after look?"
Film inspired fashion 1950s – Edith Head – controversial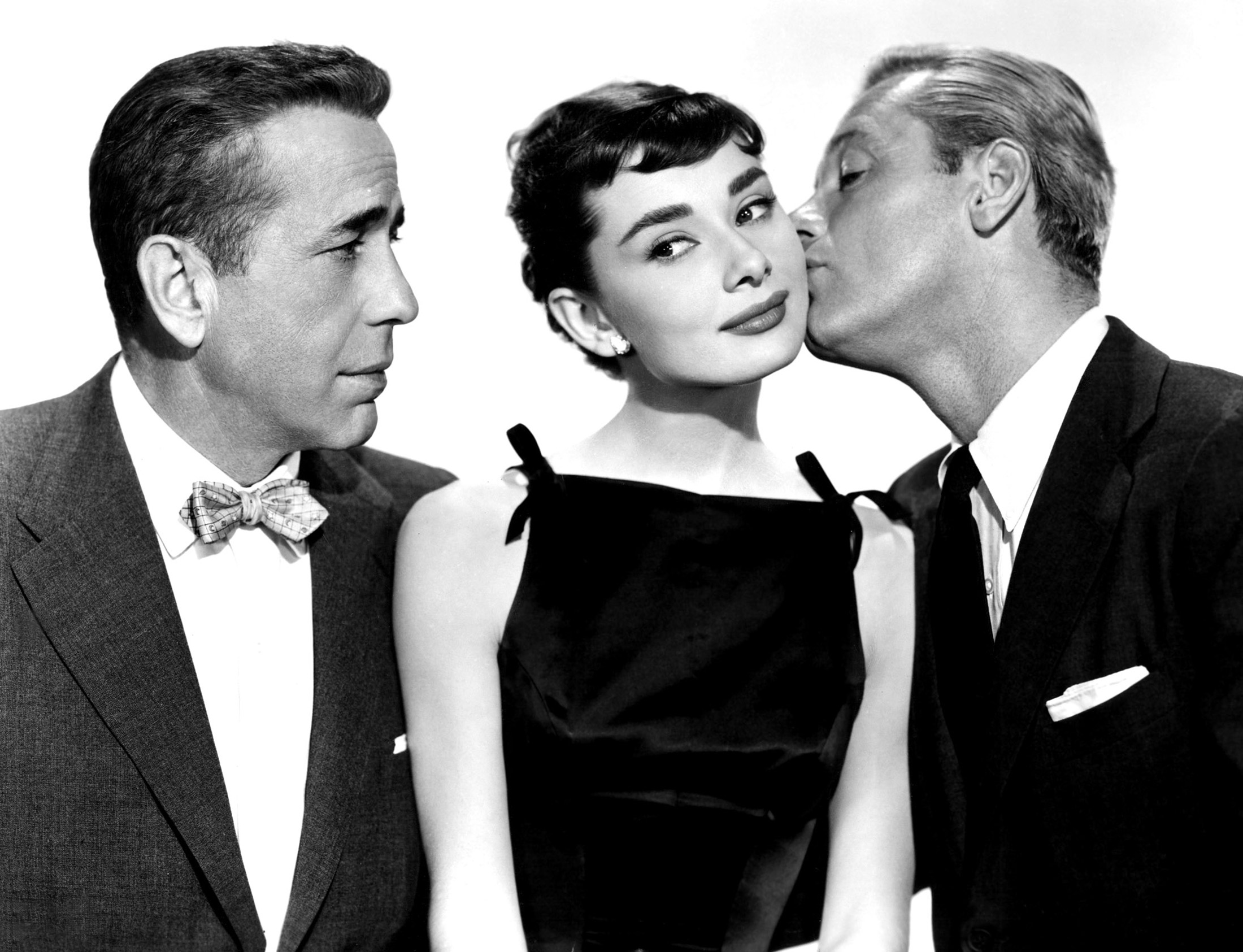 Audrey Hepburn in Sabrina
And what is even more interesting is that although Head did design the clothes for Roman Holiday, a riches to rags story in which Hepburn first appears as a regal princess and then chops off her hair and dresses like an urchin to live a "normal" life, it was highly disputed that she designed the celebrated outfits for Sabrina.
In Sabrina, Hepburn goes the opposite way – starting out as an easily overlooked chauffeur's daughter, she transforms into a chic creature dressed in Paris's finest. But not Head's finest – although she accepted the Oscar for the costuming on the film and always insisted that she and Hepburn had worked together on the clothes, it is generally accepted that the chic black dress with the high neckline and tiny shoulder bows, a dress which spawned thousands of copies, was not her style at all. Rather, Audrey's friend Hubert de Givenchy, the couturier who was the designer of Audrey's personal wardrobe had that honour.
From then on, all eyes were on Hepburn and her personal and on-screen style. Her pixie haircut was copied by the daring, and when Audrey also went on to star in Funny Face (1957), everybody took notice. Funny Face is another story where Hepburn goes from frumpy to Haute, and this time her desirable outfit was the Beatnik style all black poloneck and tight black trousers look.
Audrey Hepburn, although unusual in an era of wasp waists and generous bosoms, was not the only gamine in the movies. The French star Zizi Jean Maire starred in Anything Goes in 1956, dancing in an impossibly skintight black outfit, with a chic dark urchin crop and Jean Seberg, the beautiful blonde with her side parted crop starred in Bonjour Tristesse (1958). Film inspired fashion for many teenagers in the 1950s when they, too, cut their hair short and started wearing tight black polo necks and capri pants.
Article in "Screenland Magazine" about "Ten Tall Men".
Son of Sinbad, 1955
Article in "Screenland Magazine" about "Ten Tall Men".
Laurette Luez, the star of "Kim".
Advert for "Slave girl Glama-jamas"
Hedy Lamarr in Samson and Delilah, 1949
"Exotic Evening" dress advert, 1951
Lipstick advert featuring actress Joanne Dru, 1951
Paulette Goddard insists slimming chocolates work.
Hollywood hair, 1951
Elizabeth Taylor tells about her honeymoon.
Sophia Loren in Houseboat
Jayne Mansfield
Audrey Hepburn in Funny Face
Pinup girl with crop top
Grace Kelly, wielding her Kelly bag.
Grace Kelly's wedding dress.
Advert for copies of dresses worn on screen, 1951
Faithful copies of costumes from "All About Eve", modelled by Anne Baxter, who starred in the film.
Advert for copies of dresses worn on screen, 1951
Audrey Hepburn in Funny Face